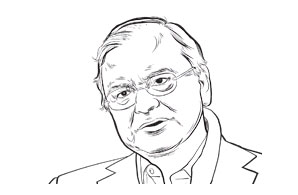 Like all of you, I am a proud Indian. I cherish India as a nation State because it has succeeded as the world's largest democracy, where many other nations have failed. The resilience of our democracy is truly remarkable. Except for a brief aberration when the dark clouds of emergency hovered on the horizon, our journey on the path of democracy has taken us from strength to strength. We have surmounted many challenges on the way in a spirit of unity and amity. This great country is unique for the diversity in language, culture and religion which in a subtle way binds all of us into an essential oneness of being an Indian first and foremost.
Today, the challenges before us are even bigger and more complicated. Democracy confers on every citizen the right to equality and guarantees liberty of thought and freedom of speech and expression. It mandates the State to take steps to enable every citizen to access opportunities in education, employment and healthcare. While we have succeeded in some measure to achieve the goals enshrined in our Constitution in the past 60 years or so, much remains to be done. People's aspirations today are more visible than ever before. Because of the slow pace at which things have improved for the common man in the past few decades, there is also a growing impatience and a sense of restlessness.
People want the present situation to change and change fast. They want that the Constitutional guarantees given to them years ago are redeemed in real life. They want the economy to have a sustained high growth so that jobs are created for the many unemployed youth. They want that the political class should shed its hypocrisy and work for the upliftment of the people in a sincere and transparent manner. They want corruption to be eliminated in all forms. Education and Healthcare should be made affordable and accessible. Infrastructure, be it roads, rails, bridges, ports or airports should be developed. They want all forms of social inequality, discrimination, abuse and exploitation to end soon.
They want corruption to be eliminated in all forms.
The spate of scandals which have signed the collective conscience in the recent past has steeled our resolve to fight this menace together. I sincerely believe that transparency, and people's awareness, are the best antidote against corruption. I strongly believe that we need to set up effective mechanisms such as a strong LokPal to deal with corruption with an iron hand. I would work relentlessly towards this goal as that is the way to go for India of the 21st century.
I have pondered over the issues confronting us as a Nation all these years. In my vision of India, there shall be a welfare State which works for the poorest of the poor, the disabled, and the downtrodden. For such a welfare State to be functional, it needs large resources which have to be mobilised through robust revenue models. In order to garner revenues, we need long term sustained economic growth. The State must fulfill its role as a facilitator for economic growth by creating the right environment for stimulating entrepreneurship and investment. The long term India story is intact even today. What has happened over the past couple of years are a series of blips, which cry for course correction on an imminent basis. And the truth is that they can be set right. True we need the gumption to bring about difficult changes. There are sacrifices to be made on this way but of narrow vested interests.
Our manufacturing sector has to spring forward and transcend years of neglect. Our youth have to be imparted the skills required to become employable and get absorbed in the expanding manufacturing sector. We need to step up investment flows to the agricultural sector and improve productivity and streamline marketing systems so that the farmer gets his due even as the food prices remain affordable for our growing population.
India has to be made ready for taking the lead in a world that is increasingly becoming globalised. We have some of the richest resource base in the world. Our human resources are ranked the best in the world. What is needed today is the right leadership, which can rise over narrow partisan interests and do what is best in the nation's interest. We have to be big on ideas and go all out to implement them.
I invite you to join hands with me in this crusade. Jai Hind.